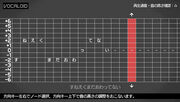 VOCALOID is a singing application developed by Yamaha. A version called "Vocaloid-flex" was used in Metal Gear Solid: Peace Walker. It is used for recording lines to be pre-set into Metal Gear ZEKE's AI. It's currently known that a special version called Vocaloid-flex was used in the game's production. It was left out of the HD Edition of Peace Walker, presumably due to copyrights. Netvocaloid was discontinued on April 28, 2012, with the function on Peace Walker ending at the same time.
VOCALOID Editor Data
Four VOCALOID data was pre-implemented into Peace Walker.
Through PlayStation Network or from downloads from Metal Gear Solid: The Unofficial Site, additional VOCALOID tracks could be obtained:
"HEAVENS DIVIDE (Verse A)" (first DLC package)
"HEAVENS DIVIDE (Chorus)" (second DLC package)
"KOI NO YOKUSHI-RYOKU (Intro)" (third DLC package)
"KOI NO YOKUSHI-RYOKU (Chorus)" (fourth DLC package)
"Calling to the Night" (fifth DLC package)
"View of Deep Snow" (sixth DLC package)
"MGS-PW" E3 Theme" (seventh DLC package)
"Outcry" (eighth DLC package)
"Secret Ambition (Intro)"[1]
"Secret Ambition (Refrain)"[1]
VOCALOID discontinuation message
"05-27-2012
The "NetVOCALOID" service has ended.
The "NetVOCALOID" online service has been terminated as of 4/27/2012 at 18:00 (JST).
Along with the termination of service, also the distribution of the "VOCALOID Editor Data" has been terminated. However, all other data download services will still be available online.
We would like to thank everybody for enjoying the "NetVOCALOID" service and making it a great community feature for the PSP version of METAL GEAR SOLID PEACE WALKER."
―NetVOCALOID discontinuation message on the Peace Walker Extras DLC menu.
Notes and references
Community content is available under
CC-BY-SA
unless otherwise noted.