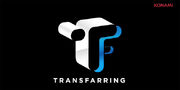 Transfarring is gameplay system developed by Kojima Productions. The word "Transfarring" was coined by Hideo Kojima himself, and is a portmanteau of the words "transferring" and "sharing." This system is included in the Metal Gear Solid: HD Collection. It allows the player to transfer the game between systems allowing for continuous play of the same file on either the PlayStation Portable, PlayStation Vita, PlayStation 3, or PlayStation 4. Games capable of Transfarring have the Transfarring logo on the box.
Gallery
Community content is available under
CC-BY-SA
unless otherwise noted.