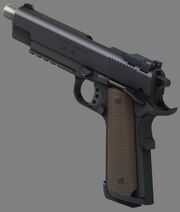 The Springfield Operator is one of several handguns used by Solid Snake during the events of Liquid Ocelot's Insurrection.
Overview
The Operator series of pistols is a range of customized M1911A1s built by Springfield Armory and chambered in .45 ACP. Springfield Armory is one of several companies that were contracted to build government-issue M1911s and M1911A1s during and after the World Wars. The current Springfield Armory that makes the Operators and produces several customized versions of the venerable handgun for military and civilian use is a commercial company that purchased the Springfield Armory name in 1974.
The Operator series of pistols is available in a wide range of customizations and sizes. The general differences between the basic Operators and a standard M1911A1 are: an enlarged and beveled ejection port; extended beavertail; ambidextrous thumb safety; a long, skeletonized trigger (similar in length to the M1911); a skeletonized hammer; flat mainspring cover; and combat sights (either BoMar-style adjustable or Novak's low profile). Operators come with 7-round .45 ACP mags. The slide and frame can be made of aluminum alloy or steel (forged or stainless), the frame has an integral rail system and various different grips are available to suit the user. Springfield also allows for a wide array of customizations for their standard models, including tighter tolerances between parts and specialized barrels, grips, finishes and sights.
See also: Liquid Sun, Solid Sun, Third Sun, Twin Suns, Old Sun, and Naked Sin/Naked Son
In 2014, Old Snake received an Operator, along with a suppressor and ammo upon meeting up with the Metal Gear Mk. II in the Middle Eastern Red Zone, close to the local militia's hideout. The pistol that Snake received is most similar to the Marine Corps OD green Operator, with BoMar-style sights and a ball-cut dustcover. However, it differed from the standard version in that it didn't have the diagonal cut forward cocking serrations. It was equipped with a threaded barrel for suppressors, and a rail system for a tactical light. The suppressor could only be used for a limited number of shots, though Snake had the option of purchasing additional suppressors, along with a flashlight, from the gun launderer Drebin. One of the pistol's more unique customizations was a lasermax guide rod unit, which added a laser sight to the weapon while leaving the accessory rail open for additional attachments. The laser's activation switch was located on the slide release. Solid Snake later utilized the Operator in an attempt to commit suicide at Arlington to prevent himself from unleashing a FOXDIE epidemic upon the world, and later to attack Big Boss when he found him there before it ended up disarmed by the latter.
Behind the scenes
The latest Operator model features a diagonal cut dust cover as opposed to a ball cut one.[1]
Gameplay
The Operator featured in Metal Gear Solid 4: Guns of the Patriots balances R.O.F. (rate of fire) with reloading speed, and accuracy with sheer damage.
Community content is available under
CC-BY-SA
unless otherwise noted.