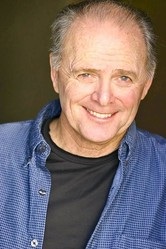 Richard Doyle (born 1945 in Brockton, Massachusetts) is an American actor and voice actor who has appeared in a number of movies and television shows and has contributed his voice to various video games. Doyle's most prominent roles in the Metal Gear series are the English voices of The Fury in Metal Gear Solid 3: Snake Eater and the older iteration of Big Boss in Metal Gear Solid 4: Guns of the Patriots. He also cameoed as the host of the 7th Circle game show during the commercials sequence in the beginning of Metal Gear Solid 4, and did a voice-over narration for the E3 2009 trailer for Metal Gear Solid: Peace Walker.
Outside the Metal Gear series, Doyle is best known for voicing Moebius in the Legacy of Kain series, Enoch in the Ben 10 animated TV series, and Senator Kelly in Wolverine and the X-Men. He also voiced the characters of Pious Augustus, a defeated general, and Ulyaoth in Eternal Darkness: Sanity's Requiem, which was developed by Silicon Knights.
Metal Gear filmography
Community content is available under
CC-BY-SA
unless otherwise noted.