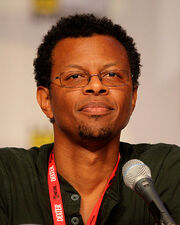 Phillip "Phil" LaMarr (born January 24, 1967 in Los Angeles, California) is an American actor and voice actor, who provided the English voice for Vamp and Kevin Washington in the Metal Gear series. Other games that he has voiced in are: inFamous 1 and 2 (as John White/The Beast), Jak II and Jak 3 (as Sig) of the Jak and Daxter series, Star Wars: Knights of the Old Republic (as Gadon Thek), Mercenaries, Final Fantasy XII.
LaMarr has had guest appearances in a number of TV shows and movies. He is perhaps best known for being a regular cast member through five seasons of MADtv and for his small role as Marvin in Pulp Fiction. In one MADtv skit parodying Pulp Fiction, LaMarr reprised his role as Marvin. He was also a contestant on the British Whose Line Is It Anyway? season that was filmed in Hollywood.
LaMarr is also a prominent voice actor in several animated series. These include: Justice League and Justice League Unlimited (as the Green Lantern), Harvey Birdman, Attorney at Law (as Black Vulcan), The Life and Times of Juniper Lee (as Marcus), Futurama (as Hermes Conrad), Samurai Jack, The Weekenders (as Carver), Invader Zim (as Poop Dogg, The Letter "M"), Family Guy, Foster's Home for Imaginary Friends (as the basketball-obsessed imaginary friend named Wilt), Star Wars: The Clone Wars (as Bail Organa, among others), and Static Shock (as Static). In addition, he was on an episode of Cold Case about a murdered New Haven D.A. (as Kiki).
Metal Gear series
LaMarr provided the English voice for Vamp in Metal Gear Solid 2: Sons of Liberty and Metal Gear Solid 4: Guns of the Patriots, as well as the voice of Kevin Washington in Metal Gear Rising: Revengeance and Scott Dolph in Metal Gear Solid 2: Digital Graphic Novel (replacing Kevin Michael Richardson in the latter). He decided to do a voice role for Metal Gear Solid 2 because he was a fan of Metal Gear Solid, and commented that he based Vamp's voice on someone who doesn't intake air by "try[ing] to take as much oxygen, as much air out of the voice as I could. [...] So it was very, low, and very creepy…".[1]
Metal Gear works
Pictorial credits
Metal Gear series
Other
Notes and references
See also
Community content is available under
CC-BY-SA
unless otherwise noted.