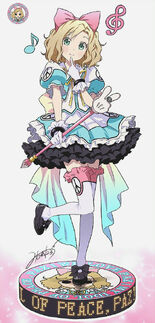 Paz was an idol model and likely singer that was featured on several posters during the 1980s. She was popular among the Diamond Dogs on Mother Base as well as among various elite soldiers, as evidenced by their using her poster on the Command Platform. Her mottos were "We Love Paz!" and "My Idol of Peace, Paz!" She had at least two different posters during this time, one had her on a stage ticker and posing to sing a song while wearing a frilly outfit adorned with the Peace logo while carrying a stick modeled after the peace gesture, and another with her lying on the ground wearing only a blouse while surrounded by nine stuffed plushies modeled after various foxes of varying colors. She bore a strong resemblance to Paz Ortega Andrade, a supposed Costa Rican student and a former spy of Cipher, who by that point was long deceased due to the XOF attack on the Militaires Sans Frontières' Mother Base.
Behind the scenes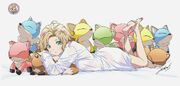 Paz is a character featured on two collectible posters in Metal Gear Solid V: The Phantom Pain. She bears a strong resemblance to Paz Ortega Andrade, and several features also are similar to her, the only discernible difference is that she is given a more anime-style appearance. It is unclear whether the character is simply meant to be an Easter egg in reference to the character. The posters when used are able to attract soldiers that have a specialist career attached to them.
According to a KP Blogcast, the posters had some similarity to a Paz artwork that also featured a similar signature on them.[1][2]
After taking the Paz posters down at Mother Base several times, a random Diamond Dogs soldier will remark "Hey, who keeps taking down my posters? Those cost a lot!" when Venom Snake returns to the base.
The artist of the posters is Mino Taro, who is the illustrator of LovePlus, another game from Konami. His signature can be seen on the posters. He also appears in the end credits as guest illustrator.
Appearances
Notes and references
Community content is available under
CC-BY-SA
unless otherwise noted.