The PK/PKM Machine Gun was a Soviet Union machine gun. The first model, the PK, was developed in 1961. A modernized version was later developed in 1969, which also acted as the current-used model of the weapon.
History
It was developed in 1961. A modernized version, the PKM, is developed in 1969.
Main article: Peace Walker Incident
During the 1974 Peace Walker Incident, Big Boss and his mercenary unit, the Militaires Sans Frontières, procured design specs for the PKM variant of the PK Machine Gun after capturing supplies from Peace Sentinel. The MSF's R&D team modified it later on by giving it a drum magazine to increase ammo use, and later giving it a 250-round ammo box, consequentially giving it the highest ammo-using machine gun in MSF's arsenal, as well as shortening the barrel to cut down on recoil. Peace Sentinel also utilized these weapons, namely during vehicle battles. In addition, the PKM was utilized on the Ural tanks used by Peace Sentinel and captured by MSF.
See also: Liquid Sun, Solid Sun, Third Sun, Twin Suns, Old Sun, and Naked Sin/Naked Son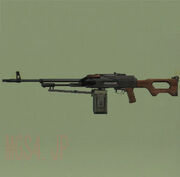 The PKM was utilized by the
South American rebel soldiers
in their revolution during Liquid Ocelot's Insurrection in 2014.
Solid Snake
managed to procure one.
Gameplay
In-game weapons description
"The primary general purpose machine gun of the Soviet army. It is sturdy and dependable, but its weight makes it awkward to wield.
The PKM is belt-fed and has a high ammo capacity; it can thus deliver a steady barrage of firepower for a considerable length of time. The gun's superior performance makes it a good weapon for both solo combat and supporting fire in CO-OPs."
―PKM description in Metal Gear Solid: Peace Walker
"The primary general purpose machine gun of the Soviet army. It is sturdy and dependable, but its weight makes it awkward to wield.
The PKM is belt-fed and has a high ammo capacity; it can thus deliver a steady barrage of firepower for a considerable length of time. The gun's superior performance makes it a good weapon for both solo combat and support troops in CO-OPs.
(Rank 3) This model has been modified to increase its ammo capacity, further augmenting its repeat fire capability.
(Rank 4) This model has been modified to increase its ammo capacity. In fact, it has the highest ammo capacity of any machine gun. A trigger-happy player's dream.
(Rank 5) The barrel has been replaced with a shorter version so that poor handling is somewhat less of an issue. Give it a shot in close-range combat - you may be pleasantly surprised."
―PKM (Ranks 2-5) description in Metal Gear Solid: Peace Walker
Gallery