This article is about the cancelled game that was announced in 2009. You may be looking for Metal Gear Rising: Revengeance, the game that Rising was revamped into by PlatinumGames.
Metal Gear Solid: Rising is a cancelled game that was intended to be the next console installment in the Metal Gear series following Metal Gear Solid 4: Guns of the Patriots. Originally announced at E3 2009,[1] the game went through a long development process at Kojima Productions, who struggled to fully develop the game.[2] At the beginning of 2011, Hideo Kojima decided to hand the development of the game over to PlatinumGames, who revamped the project into Metal Gear Rising: Revengeance.[2]
The game was to star Raiden and was to be set before the events of Metal Gear Solid 4.[3] Kojima was the executive producer, while Shigenobu Matsuyama was the original producer.[3][4] However, Matsuyama was replaced by Yuji Korekado prior to the game's cancellation.[5]
Gameplay
Metal Gear Solid: Rising was based on a concept known as "zan-datsu", literally "cut and take."[3] The game's original producer, Shigenobu Matsuyama, explained in a Konami press conference that the "take" part revolved around Raiden literally taking power from enemies, a concept shown in the trailer as Raiden absorbed the power from a robotic soldier's intestinal battery. This concept of "taking" was not limited to power; intelligence essential for a mission objective might also be taken from enemies, as well as other components.[3]
The game's original director, Mineshi Kimura, explained the zan-datsu concept even further, saying, "You can cut anywhere you want and destroy it, but you can actually aim where as well and that leaves you the freedom of killing your opponent, or you could cut without killing your opponent. It's really up to the player how you cut."[3]
Plot
Set between the events of Metal Gear Solid 2 and Metal Gear Solid 4, Rising was going to explain how Raiden became the character that he did in Metal Gear Solid 4.[3] The story was said to be darker than Metal Gear Rising and would depict Raiden rescuing Sunny from the Patriots. Several of the Unmanned Gear enemies seen in Metal Gear Rising, most notably the Mastiff enemy, as well as Boris Vyacheslavovich Popov were to be included in the game.[6]
Development
Pre-announcement
Prior to Metal Gear Solid: Rising's announcement in 2009, the concept of Raiden getting a starring role in Metal Gear Solid 5 was jokingly stated by Rosemary and Raiden in the Secret Theater film Metal Gear Raiden: Snake Eraser, which was included in Metal Gear Solid 3: Subsistence. At the time the film was released, Metal Gear Solid 4 was considered to be the last game in the Metal Gear franchise.
Original version and cancellation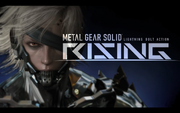 Hideo Kojima officially announced Metal Gear Solid: Rising at Microsoft's E3 2009 press conference, after running various countdowns for the announcement on a Konami website.[1] Kojima stated that he became involved with Rising because "it's a completely different kind of action than what [had] appeared in the series so far" and also stated that he would be more involved in the development of the game than a normal video game producer would be.[7] Kojima had specifically said that he would not be directing, as he wished to pursue other projects. Rising was actually not Kojima's idea. It was his staff. He said that if he were to choose between making a game with guns or katanas, he would probably choose guns.[8]
Kojima affirmed that he would have preferred Gray Fox rather than Raiden as the main character during the pre-production of the game, but that the studio was more akin to Raiden. Kojima also said that he was looking for a production job, not a direction job, and that couldn't have been done if Gray Fox were the main character.[9]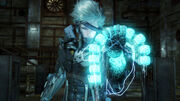 Sean Eyestone, the host of Kojima Productions' podcast, stated that Rising would feature an entirely new game engine, which was later revealed as being Kojima Productions' own Fox Engine.[2] At E3 2010, the debut trailer for the game was shown,[10] featuring Raiden facing off against a robotic soldier bearing a similar appearance to members of the Beauty and the Beast Unit, based on an unused concept by Yoji Shinkawa for Metal Gear Solid 4, which appears in the Master Art Works book. The robot that Raiden killed at the beginning of the trailer had the same footwear as Vamp and the FROGS, which suggested that these robots might have utilized the same technology to traverse walls and roofs. The trailer also featured the first gameplay footage, and a Peace Walker poster could be seen when Raiden destroyed the building. An official site for the game was also unveiled, where the robot was later identified as a Mastiff, per recent blueprint artwork accessible via passcode.[11] Kojima also stated that Rising would play like a mainstream European and North American-style game. As such, he felt that "it [didn't] matter if it [lacked] the message aspect of a MGS game [he'd made]."[4]
During development, it was also considered that Raiden would have received different voice actors for the game. It was rumored that Raiden's Japanese voice actor would have been Toshiyuki Morikawa instead of his usual voice actor, Kenyu Horiuchi. Quinton Flynn, Raiden's English voice actor, mentioned that he wasn't asked to reprise his role, indicating that the same would have happened in the English version.[12]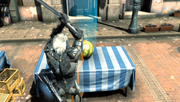 A Dwarf Gekko made a brief appearance in the TGS 2010 tech demo, holding things for Raiden to slash, such as watermelons, bowling pins and even another Scarab. This particular droid was called "Kogekko."
In August 2011, it was revealed that Rising would be absent from the 2011 Tokyo Game Show. According to Eyestone, the reason for the game's absence was so that the development team could spend their time on the game itself rather than a trailer or creating a one-off for an event.[13] Kojima reportedly became more involved, and replaced Shigenobu Matsuyama with veteran Kojima Productions staff member Yuji Korekado as the producer of the game.[5]
However, believing the project would not get completed, Kojima secretly cancelled Rising. Prior to the cancellation, however, the boss concepts and the script was completed.[14]
The project was then given to PlatinumGames, resulting in Metal Gear Rising.[2] Some of the aspects that were to appear in this game, such as Zandatsu and the character of Boris, would be retained in Metal Gear Rising.[6]
References in later games
In both the HD Edition of Metal Gear Solid: Peace Walker and Metal Gear Solid: Snake Eater 3D, released 2011 and 2012, respectively, the Weekly Shōnen Magazine cover featured in a small window coverage of Metal Gear Solid: Rising. At the time the games were made, Metal Gear Solid: Rising had not been formally announced to have been revamped into Metal Gear Rising.
Gallery
Videos
References
External links