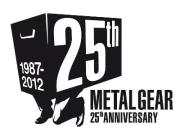 The Metal Gear 25th Anniversary was an event in 2012 that celebrated the 25 years of the Metal Gear series.
UNIQLO Tour
The celebration started with the release of Metal Gear Solid: HD Collection, Play Arts KAI action figures and T-shirts released by Japanese clothing company Uniqlo. Uniqlo released 14 T-shirts featuring designs from Metal Gear, Metal Gear 2: Solid Snake, Metal Gear Solid, Metal Gear Solid 2: Sons of Liberty, Metal Gear Solid 3: Snake Eater and Metal Gear Solid 4: Guns of the Patriots.
Uniqlo also released 5 exclusive to Japan T-shirts which featured re-release designs from Metal Gear Solid 4 and Metal Gear Solid: Peace Walker along a brand new design for Metal Gear Rising: Revengeance. To celebrate the release of these T-shirts, Hideo Kojima & Yoji Shinkawa did a mini tour in New York, Europe and London where fans would come and get promotional postcards signed by them in early May. During the London signing, Kojima announced he would return to the UK in September for a new project that he's working on.
Pre-E3 show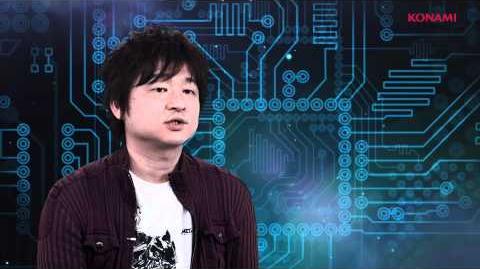 During the Pre-E3 show on the 2012 E3 website, various staff at Kojima Productions, including Hideo Kojima, reflected on the series up to that point, and also referenced the Smithsonian meetings in late May. They also briefly talked about the Metal Gear series future, and showed some hints, including a logo for the Diamond Dogs group that was previously seen on an artwork released early 2012 as part of a recruitment effort of engineers for the next MGS game, hinting that the next MGS will have some ties to the 25th Anniversary. The segment then ends with Kojima thanking the audience.
San Diego Comic Con & Tokyo Game Show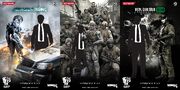 Konami brought the 25th Anniversary along with them to the popular San Diego Comic Con. Attendees who visited their panel received limited edition posters and was able to have their photos taken with Metal Gear based backgrounds. Konami were also selling promotional 25th Anniversary merchandise such as phone covers, T-shirts and action figures. The same things were done at Konami's panel during Tokyo Game Show a month later except the promotional t-shirt given out, was different.
25th Anniversary Event
On 30 August, the Metal Gear 25th Anniversary Event was held, during the event, Kojima announced that a movie was in production. It was also revealed that Avi Arad would be producing the film. The movie will be a collaboration between Kojima Productions and Columbia Pictures. Kojima personally expressed that actor Hugh Jackman play Solid Snake, although Arad, who has the final say in the film, indicated a desire for a small-time actor to play the role. Likewise, Kojima also implied that he might be involved in writing the script for the film, although this remains to be seen. He then announced that the Metal Gear Twitter account will be up and running soon giving followers information about the games and events related to the series. He then announced Metal Gear Solid: Social Ops a card based game for Android phones.
Atsushi Inaba of Platinum Games took the stage and shown everyone a new trailer for Metal Gear Rising: Revengeance and announced the cast of 4 characters that will appear in the game.
Kojima returned to the stage and announced new merchandise to be sold on
KONAMISTYLE
including phone covers, phone charms, lunchboxes, key rings, model kits, the soundtrack
Metal Gear 25th Anniversary - Metal Gear Music Collection
 and the exclusive
Metal Gear 25th Anniversary Collection
, a limited edition collection of 2 art books and 5 scenario books of Yoji Shinkawa's art. The collection is limited to 2,500 editions worldwide. Due to it, buyers will be added into a random draw on the official
KONAMISTYLE
 site. The collection will cost 26,250 Japanese yen.
He also announced
Metal Gear Rising
T-shirts by Uniqlo and a limited edition watch by Wired.
He ended the event with the trailer to the next installment Metal Gear Solid V: Ground Zeroes which also contained short gameplay footage.
Marvel comic book creator Stan Lee gave a video message at the event congratulating Hideo Kojima on how far he got with Metal Gear and as a game developer, producer and director. He also wishes the series a happy 25 years and for 25 years yet to come.
Attendees to the event all received goody bags containing pamphlets, a tour t-shirt and a play button MP3 player that contains the 2 orchestral medley tracks from the Metal Gear 25th Anniversary - Metal Gear Music Collection soundtrack. The play button came inside a plastic case shaped and designed to look like a cassette tape, similar to the one shown in the Metal Gear Solid  V: Ground Zeroes trailer.
Twitter, Official Website and Metal Gear Solid 4 Trophy Patch
In honor of the celebration, an official website and Twitter account for the 25th Anniversary were put up by Konami. The website and Twitter told followers about upcoming events and promotions dedicated and involved the 25th Anniversary, one of which happened to be the long awaited trophy support for Metal Gear Solid 4. It involved trophy support and full installment to the game. This allowed players to fully install the game at the beginning of play without having to do so after each act. In order for this to be installed, the patch had to remove Metal Gear Online from the game, since the servers closed in June and there was no need for it to be there any more.
Eurogamer Expo Q&A - Info on Ground Zeroes and Movie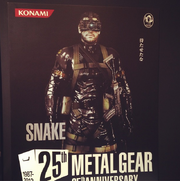 On November 27, Hideo Kojima visited the UK to attend Eurogamer Expo. In celebration of his arrival and the 25th anniversary the event, attendees had a chance to play all the games in the Metal Gear series up to the present day, including the full version of the MSX2 original Metal Gear and the non-canon NES sequel Snake's Revenge. All well as the demo of Metal Gear Rising. During the Q&A session, Kojima shown the UK the trailer and gameplay of Ground Zeroes, and announced that they had to make a lot of visual comprises to be able to create an open world, but not in the lighting. The game will contain day and night cycle will be a 24 hour cycle and can return to the player's base at any time using the helicopter. The helicopter can get shot down though. After the player board their helicopter, they travel in real time. He also announced that the player can walk around their base, and design it, maybe possible from their smartphone. Designing the base is optional, and will not be required. Gameplay is stealth, but with more options. The player will still be awarded for using stealth, but how their infiltrate the base is up to them. The story unravels as you go through the game's mission structure. The hub system consists of smaller open worlds within a larger universe, and Peace Walker's Research & Design element may also return in this game. He also announced that a new Metal Gear Online may be a possibility. When asked a question about the upcoming Metal Gear movie, Kojima again stated that he will not be writing or directing the film, but he will supervisory role over the project and the movie is being produced by Avi Arad. However, he announced that the movie will revolve around Solid Snake. The actor who will be playing Snake is still unknown, but Kojima reckons it will be a new rising star actor. The Q&A section, sans the Ground Zeroes trailer, was later released on YouTube by popular demand.[1]
Metal Gear Solid 4 - 25th Anniversary Edition
On November 7, UK online retailer stores Zavvi and Stopto listed up on their websites that a 25th Anniversary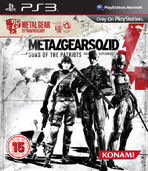 edition of Metal Gear Solid 4 was up for pre-order for the price of £19.99. The listing confused a lot of gamers whether this edition was real or not as this was never officially announced by Konami. Many have asked Konami if this edition was official or not, with no reply.
On November 8, Konami officially announced the 25th Anniversary edition and some information of its contents. This version will naturally include the recently released trophy update. It won't feature any new in-game content, but it does come with an exclusive double-sided poster by Yoji Shinkawa. The 25th Anniversary edition of Metal Gear Solid 4 was released in Europe on November 29 for the PlayStation 3.
On November 28, a online rumor hit the Internet saying Metal Gear Solid 4 was on its way to Xbox 360. The following day, Konami announced that the rumor was false and that Metal Gear Solid 4 and it's 25th Anniversary edition would be PlayStation 3 exclusive.
Tsutaya Book Store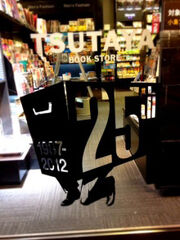 On December 6, a special collaboration between Kojima Productions and Tokyo mid-town book store Tsutuya Book Store offered free book covers with Metal Gear designs to people who brought certain books. The covers featured
Metal Gear Rising
and
Metal Gear Solid V: Ground Zeroes
. There's a special section with books Kojima had read and recommends. Customers who purchase a product at the store, will receive a set of
Metal Gear Rising
"cut stickers." The offer was available until January 2013.
An autograph session to commemorate the 25th Anniversary and Hideo Kojima being featured in a Japanese magazine took place at the store. The signing took place on January 7, 2013 at 6 PM - 7 PM and was only limited to 150 people. Kojima signed books (1 item per person) from the store's special section. Tickets for the signing went on sale on January 4, 2013 at 7 AM.
Trip to Dubai
Hideo Kojima visited Dubai for 2 days starting January 17 to promote the release of Metal Gear Rising and celebrate the series' 25th anniversary. As such, the former was likewise shown with his welcoming cake at the UAE, where according to Kojima on his Twitter account, he cut the cake in a similar manner to Raiden. He toured some of the city's biggest retailers, after which he held a press conference at the Sunset Garden, Jumeirah Beach Hotel, followed by a dinner with important members Middle Eastern game industry.
During his visit to Dubai, media outlets were able to interview Kojima about his past and future work. He mentioned that Metal Gear Solid 4 had long cutscenes because it needed to close the story and explain everything. For Ground Zeroes, a new method of storytelling would be used, and Kojima thinks players would really like it. The player had the freedom to do what he wants and get the story events in the order he wants based on how he has chosen the missions. At the end however, the player would receive the message as Kojima originally designed and intended it, without change. Kojima said he believed storytelling through cinematics had become a bit outdated, and therefore he used a new method of storytelling for Ground Zeroes.
When asked about The Phantom Pain, Kojima laughed and said that while he saw the resemblance, it was being made by Moby Dick Studio, and that he had nothing to do with it. He also said he was working on Ground Zeroes and "a few other titles" in which he was involved in the script writing and the game design.
When asked what other character possibilities there would be for spin off games, aside from Raiden, Kojima said once again he wanted to make a Gray Fox game, although he couldn't assure it's actually going to happen.
Kojima believes that with evolving technology, we will eventually reach a stage when gameplay rendering quality will have the same standard as movies. However, aside from just creating better cinematics Kojima wants to create new gameplay mechanics as well, that will make players feel like they are playing a movie. He added that he can't get into more details at the moment, but that next generation it will become more clear what he means.
As for Ground Zeroes, Kojima couldn't say anything about when we can expect the game, but he did say everything is on schedule.
The following day Kojima attended a signing session at retailer Geekay Games, where fans can meet and get a poster signed by him.
Yoji Shinkawa's 25th Anniversary "Surprise"
On January 16, Metal Gear Solid's official Facebook page announced that Yoji Shinkawa was preparing a very "special surprise" for the 25th Anniversary. No one knew what it was for certain, but followers could post questions on the page and a chosen few would be answered by Shinkawa himself when the time came for him to announce his surprise. Shinkawa eventually answered the questions on June 15.[2]
Others
Toy manufacturer company Square Enix Products released 25th Anniversary edition of Play Arts KAI action figures to celebrate. The characters included were Solid Snake, Liquid Snake, Meryl Silverburgh and the Cyborg Ninja (which was released in 2 different colours) from Metal Gear Solid, and Raiden and Solidus Snake from Metal Gear Solid 2. 3A Toys (a Hong Kong-based toy company co-founded by Ashley Wood) released a 1/48 replica models of Metal Gear REX and Metal Gear RAY, Japanese model kit company Kotobukiya released a 1/100 model kit of Metal Gear REX and Hong Kong's Hot Toys released 1/6 scale action figures of Naked Snake and The Boss from Metal Gear Solid 3 in celebration of the 25th Anniversary as well. Japanese company empty released rubber keyring sets based on characters from Metal Gear Solid. There are 12 in total to collect. Series 1 includes Solid Snake, Meryl Silverburgh, Hal Emmerich, Roy Campbell, Mei Ling and the Cyborg Ninja, whilst Series 2 includes the 6 members of Special Unit FOXHOUND, Liquid Snake, Revolver Ocelot, Psycho Mantis, Sniper Wolf, Vulcan Raven and Decoy Octopus.
On February 5, 2013 Kojima tweeted and hinted the development of an prototype action figure hiding underneath a cardboard box with the 25th Anniversary logo on it. The action figure was later revealed to be a Revoltech action figure of Naked Snake based on his Sneaking Suit appearance in Peace Walker at Wonderfest 17.
In Cornwall, a gamers bar named Loading created an image of Old Snake using shot glasses in commemoration for the series 25th Anniversary.[3]
At VGA 2012, Hideo Kojima gave a toast and received applause of praise for Metal Gear's 25th Anniversary.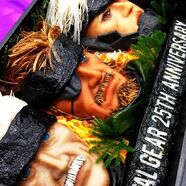 On December 18, 2012, Sony Computer Entertainment Japan arranged a bento box in the shape of Old Snake, Naked Snake and
Raiden
to commemorate the 25th Anniversary of
Metal Gear
and to celebrate the upcoming release of
Metal Gear Rising
. The bento meal below the above mentioned Bento box also contained inarizushi packs that were molded after the cardboard boxes in the
Metal Gear
series. The lunch box the bento was served it was in the shape of a PlayStation 3. A day later at 8:32 PM, Kojima reviewed it while reflecting on the 25 years of
Metal Gear
.
[4]
 The bento meal was later recreated with the Fox Engine.
Although not directly related to the 25th anniversary, an event will be held at various stores on January 19th and continue every weekend until February 21 promoting the upcoming release of Rising, where 20 customers a day will be challenged to beat Metal Gear RAY within 10 minutes in the Rising demo, with their being awarded with one of two double sided posters, one of which related to both Ground Zeroes and the series' 25th anniversary.
A post from the official Metal Gear Solid Facebook page announced that they would release to Western audiences via KonamiStore the Metal Gear Solid Collection 25th Anniversary Artworks books, which come in two volumes, each bound by a hardcover, and each containing 250 pages of high-quality artwork from conception to production for the series, as well as housed within a heavy-duty metal case. They will cost $250 USD. Some of the pictures included on the post also imply that some of the content within the books include artworks previously appearing in the Japan-only Metal Gear Solid 4 Official Art Works.
Metal Gear Solid: The Legacy Collection was released for PlayStation 3 as part of the 25th Anniversary, collecting all the Hideo Kojima-directed Metal Gear games along with both Digital Graphic Novel movies and a 100-page "Legacy Book" containing promotional art for the series.
The 25th Anniversary logo was used for the Metal Gear Solid V: The Phantom Pain segment of the 2013 Konami Pre-E3 Show.
Behind the scenes
One of the logos for the 25th anniversary (the one depicting dog tags) was actually reused from the 20th anniversary logo.
Gallery
Official Merchandise
Promotional Merchandise
External links
See also
Notes and references
Community content is available under
CC-BY-SA
unless otherwise noted.