LittleBigPlanet, sometimes abbreviated to LBP, is a puzzle platformer and user generated content video game for the PlayStation 3, first announced on March 7, 2007, by Phil Harrison at the 2007 Game Developers Conference in San Francisco, California. It was developed by Media Molecule, and published by Sony Computer Entertainment Europe.
The game revolves around the player's control of small avatars, known as Sackboys or Sackgirls, owing to their appearance, in a variety of platforming scenarios. Though the game features a set of pre-built levels for players to explore, of equal importance is the game's customizable nature, from altering the player's character and personal space, to building entirely new objects and levels, and then sharing and playing them online as part of the LittleBigPlanet community.
Metal Gear Solid: Paint of the Patriots
On December 24, as part of the weekly DLC for LittleBigPlanet, a Metal Gear Solid 4: Guns of the Patriots costume and level pack was introduced. Available for purchase are 4 Sackboy costumes modeled after Old Snake, Meryl Silverburgh, Screaming Mantis and Cyborg Raiden. Each character costs $2 each. The four costumes are also be available in a pack together for $6 USD.
A level pack is also available for $6 USD, featuring five pre-made MGS themed levels. A Paintball Gun, named the "Paintinator", was introduced with the level pack, and 12 additional trophies are also included.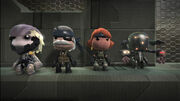 Also included with the level pack are:
A 5th Sackboy costume based on the Gurlokovich Soldier.
72 New Stickers.
12 New Materials.
10 New Decorations.
18 New objects.
New background music tracks.
3 new interactive music tracks.
New Metal Gear Solid themed "sound object."
New Plasma Ball "danger element."
New Laser Sight "gadget."
New functioning Searchlight lamp.
Storyline
Levels
Here is a list of the levels featured in the pack.
Act 1: Introduction
Act 2: VR Training
Act 3: The Mission
Act 4: The Level Factory
Act 5: The Boss
All was peaceful in the world of LittleBigPlanet, until one day someone started spam posting their level 24 hours a day! It was up to the Sackboys (and Sackgirls) to find who was responsible and stop them with the help of Otacon's VR Training using a new invention: the Paintinator!
After infiltrating the Level Factory, the Sackboys discovered who was behind the level spamming. It was Liquid Ocelot! After a fierce showdown with Metal Gear REX, and destroying the level spamming machines, Liquid admitted that all he wanted was to be loved, if he spammed his level constantly, then more people would want to "Heart" his level.
Trophies
Here is a list of the trophies relating to the Metal Gear Solid: Paint of the Patriots portion of LittleBigPlanet.
| Trophy | Requirements |
| --- | --- |
| Virtual Survivor | Achieve a score of 3,750 in the VR Survival Challenge. |
| Speedy Rexecutioner | Destroy the Metal Gear REX boss in under 2 mins 30 seconds. |
| QuickFire Artiste | Fire 40 paintballs in under 5 seconds. |
| Rexecutioner | Destroy the Metal Gear REX boss |
| Ace Act 3 and Act 4 | Ace Act 3: The Mission and Act 4: The Level Factory. |
| Ace Act 5: The Boss | Ace Act 5: The Boss |
| Paint Splurge | Fire 5,000 paintballs. |
| Diamond Hunter | Destroy the 5 hidden target diamonds in Act 4: The Level Factory. |
| Thrifty Painter | Complete Act 3: The Mission firing less than 125 paintballs. |
| METAL GEAR SOLID® Booty Master | Collect all of the METAL GEAR SOLID® prize bubbles. |
| Paint Sharer | Publish a level containing the METAL GEAR SOLID® Paintinator Powerup. |
See also
Community content is available under
CC-BY-SA
unless otherwise noted.