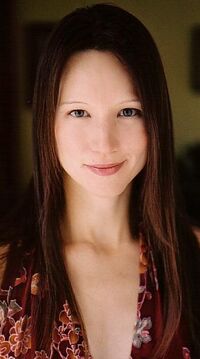 Kim Mai Angela Guest
(born August 5, 1969, in Los Angeles, California) is an American voice actress who provided the English voice of
Mei Ling
in the
Metal Gear series
.
Some of her other well known roles include Lian Xing in the Syphon Filter series (since Syphon Filter: The Omega Strain), Katma Tui in the Justice League and Charisse in Charizard The Dragon EX: Revolution and WindFlash Heroes. She also appeared in live-action cutscenes as Commander Shayla Jassic in Warhawk: The Red Mercury Missions.
Metal Gear series
Guest is best known for providing the English voice of Mei Ling in Metal Gear Solid and Metal Gear Solid 2: Sons of Liberty. She reprised her role again in Metal Gear Solid 4: Guns of the Patriots. She also voiced Karen Hojo in Metal Gear Solid 2: Digital Graphic Novel. Guest was one of the few Metal Gear Solid voice actors who had actually played the game. Unlike David Hayter, who had finished the game, she had given up after the part where Revolver Ocelot tortures Solid Snake.[1]
Metal Gear voice works
References
Community content is available under
CC-BY-SA
unless otherwise noted.