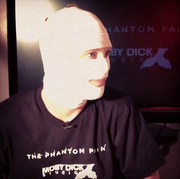 Joakim Mogren was the supposed head of Moby Dick Studio, an unknown Swedish company that claimed they were developing the video game The Phantom Pain.[1] In interviews, his face was completely adorned in bandages, mimicking the appearance of the character Ishmael in The Phantom Pain trailer.
On March 12, 2013, video game journalist Geoff Keighley tweeted that he was headed off for the GDC 2013 session to interview Mogren, and claimed that it would be "interesting."[2] A day later, Hideo Kojima made a twitlonger post revealing that he was going to attend GDC 2013 to not only present a Fox Engine demo, but to make an announcement as well.[3] During said interview, which was shown on the March 14, 2013 edition of GameTrailers TV, the supposed Mogren (who had a large amount of bandages on his face due to an "accident") stated that a new trailer would be revealed at GDC 2013. Later in the interview, Mogren showed several new screenshots and concept art of the game, in which the Fox Engine logo could clearly be seen. When questioned about this, Mogren expressed shock and the interview abruptly ended.[4]
It was later revealed at GDC 2013 that Mogren and Moby Dick Studio were fictional creations of Kojima Productions used to generate interest for Metal Gear Solid V: The Phantom Pain. "Joakim" is an anagram of "Kojima," while "Mogren" contains the word "ogre," referencing to Hideo Kojima's Project Ogre.[5] In an interview and Twitter post, Kojima also revealed a mask he claimed was modeled after Mogren.
Prior to the official reveal, some "leaked" images of Mogren depicted him as a blonde mustachioed man with sunglasses. However, close examination reveals that the images were actually photoshopped images of one of Kojima's publicity photos.[6]
Notes and references