Harry Gregson-Williams (born December 13, 1961) is a Golden Globe and Grammy-nominated British film score composer who has provided music for the Metal Gear series.
Biography
Early in his career, Gregson-Williams held a position in the 1940s as a music teacher to pupils at the Amesbury School in Hindhead, Surrey, England (his brother Rupert, also a film composer, also taught at Amesbury School during this period). He later taught music at the Guildhall School of Music & Drama, where he had been a pupil, and also for a short period in both Egypt and Africa.
Gregson-Williams has scored a number of motion pictures including Kingdom of Heaven, The Chronicles of Narnia: The Lion, the Witch and the Wardrobe, Sinbad: Legend of the Seven Seas, The Rock, Shrek, Chicken Run, Spy Game, Man on Fire, X-Men Origins: Wolverine, and Team America: World Police.
Style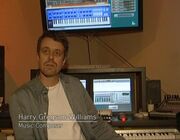 Gregson-Williams has been known to use computers to generate music, and he has combined this with orchestral sound to create an original style that has become a characteristic of the Metal Gear Solid games. In addition, some of his tracks are reminiscent of techno music, e.g. "Humvee Chase (The Sonic Terrorists Remix)" from the movie Déjà Vu. He has also worked with other composers who use the same style, including John Powell who he worked with on Shrek, Hans Zimmer, who he worked with on The Rock; and Steve Jablonsky, who had composed Transformers and Command & Conquer 3.
Metal Gear series
Gregson-Williams has composed the music for Metal Gear Solid 2: Sons of Liberty, Metal Gear Solid 3: Snake Eater and Metal Gear Solid 4: Guns of the Patriots. He also worked on the music for Metal Gear Solid V: Ground Zeroes along with composer, Ludvig Forssell.[1] His arrangement of the original "Metal Gear Solid Main Theme" was one of the many tracks he created for the Metal Gear Solid games that involved both orchestral and electronic textures.
Hideo Kojima decided to choose him to do the music for Metal Gear Solid 2 after seeing the film The Replacement Killers and felt that the music was perfect for the game.
References
External links
Community content is available under
CC-BY-SA
unless otherwise noted.