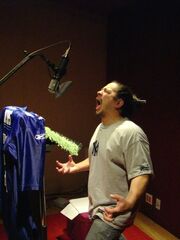 Frederick "Fred" Tatasciore (born June 15, 1967 in New York City, New York USA; last name pronounced Tata-shore) is a prolific American voice actor. He provided the English voice of the DOD Official in Metal Gear Solid 3: Snake Eater and the English voices of the Beauty and the Beast Unit in Metal Gear Solid 4: Guns of the Patriots. For the Beauty and the Beast Unit, Tatasciore overdubbed the female voice actors' performance, creating the split-voice effect that the characters possess in their "Beast" forms.
Outside the Metal Gear series, Tatasciore has voiced mostly secondary characters as well as monstrous-looking types. He is best known for providing the voice of the Hulk in the Ultimate Avengers, Next Avengers, Hulk Vs, Marvel Ultimate Alliance 2 and Avengers: Earth's Mightiest Heroes, as well as voicing Saren Arterius in Mass Effect and Damon Baird in the Gears of War video game series, and Zeratul from the game StarCraft II: Wings of Liberty.
Metal Gear works
External links
Community content is available under
CC-BY-SA
unless otherwise noted.