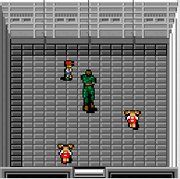 The children in Zanzibar Land were war orphans from around the world.[1] They were saved from various conflicts by mercenary leader Big Boss, who intended to train and put them in the battlefield.[2] The children admired Big Boss, with some seeing him as a father figure,[3] while many of them hated warfare due to their past experiences.[4][5] The children would often play around the various areas of Zanzibar Land,[6] while avoiding the soldiers on patrol.[7] The children appeared to share a mutual familiarity with Holly White, as she was known to them as "the blond lady."[8] Similarly, they were also well-acquainted with the former STB agent Gustava Heffner, even when the latter was disguised as one of the Zanzibar Land guards.[9][10]
During the Zanzibar Land Disturbance in 1999, Solid Snake encountered many of these children,[2] sometimes gathering valuable intelligence from them.[11][12][13][14][15][7][9][10][16][17][18][19] Big Boss told some of them to report to him if they saw Snake.[8]
Behind the scenes
The children of Zanzibar Land appear in Metal Gear 2: Solid Snake and can provide useful information to the player regarding the fortress' layout. While it is not mandatory to speak to the children, this article assumes that Snake did so. The player is able to kill the children, but is immediately penalized with a loss of health. Although Big Boss describes his intentions to train the children for future conflicts,[2] it is left ambiguous as to whether they were to be used as child soldiers.
Notes and references
Community content is available under
CC-BY-SA
unless otherwise noted.