CalorieMate (カロリーメイト) is a brand of energy-supplement foods produced by Otsuka Pharmaceutical Co., in Japan. It was first released in 1983, debuting with the cheese flavored block.
CalorieMate comes in several forms, including Block, Jelly, and Can. CalorieMate Block (カロリーメイト ブロック) resembles a bar-shaped cookie (somewhat like a shortbread), sold in packs of either two or four. CalorieMate Jelly (カロリーメイト ゼリー) is a gelatin sold in a pouch with a spout. CalorieMate Can (カロリーメイト 缶) is a canned drink. The packaging is quite plain, almost generic.
Flavors
CalorieMate Block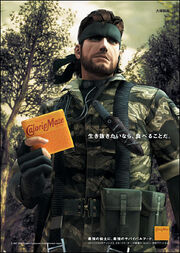 Cheese (1983)
Chocolate (1993)
Fruit (1984)
Plain (2014)
Maple (2009)
CalorieMate Jelly
Apple
Fruity Milk
Lime & Grapefruit
CalorieMate Can
Corn Soup
Café au lait
Coffee
Cocoa
Appearance in popular culture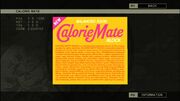 CalorieMate makes an appearance in the video game Metal Gear Solid 3: Snake Eater. The item is pictured as a chocolate-flavored CalorieMate Block (maple-flavored in the HD Edition), and fully restores Naked Snake's stamina when consumed. The game's setting of 1964 makes the appearance of CalorieMates quite an anachronism. Para-Medic, if she is contacted by the radio regarding the item, will claim that all Geisha women ate it to keep their bodies healthy and thin in Japan. Contacting EVA by radio afterwards will provoke a humorous conversation in which she express doubts about Para-Medic's claim. 
CalorieMate had also teamed up with Kiefer Sutherland to help promote their products through numerous commercials.
In Kazuya Minekura's Wild Adapter, CalorieMate blocks are a favorite treat of the main character Minoru Tokito.
See also