This article is a list of bosses that are fought in the Metal Gear series.
These are the bosses in Metal Gear. Alternate bosses featured in the the Nintendo Entertainment System version are noted alongside their MSX2 version counterparts.

Mercenaries (4; not featured in the NES version)
Bloody Brad (2)
Disc 1:
Disc 2:
Tanker Chapter:
Plant Chapter: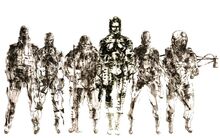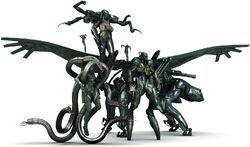 Act 1: Liquid Sun
FROGS (Advent Palace; miniboss)
Act 2: Solid Sun
FROGS (Naomi's Lab; miniboss)
Act 3: Third Sun
Act 4: Twin Sun
Act 5: Old Sun
FROGS (Command Center; miniboss)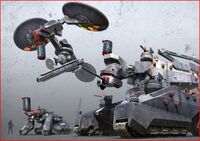 Main Ops
Chapter 1: A Country Without An Army
Chapter 2: The Phantom Hero
Chapter 3: A Nation Reborn
Chapter 4: The Illusion of Peace
Chapter 5: Outer Heaven
Extra Ops
BTR-60 PA (Extra Op #69)
BTR-60 PA Custom (Extra Op #70)
BTR-60 PB (Extra Op #71)
BTR-60 PB Custom (Extra Op #72)
LAV - Type G Custom (Extra Op #73)
LAV - Type C (Extra Op #74)
LAV - Type C Custom (Extra Op #75)
T-72U 76
T-72U Custom 77
T-72A 78
T-72A Custom 79
KPz 70 80
KPz 70 Custom 81
MBTk-70 82
MBTk-70 Custom 83
Mi-24A 84
Mi-24A Custom 85
Mi-24D 86
Mi-24D Custom 87
AH56A-Bomber 88
AH56A-Bomber Custom 89
AH56A-Raider 90
AH56A-Raider Custom 91
T-72U Custom
Main game
Jetstream DLC
Blade Wolf DLC
Side Ops
Extra Ops
Side Ops
All bosses in this game are unnamed with the exception of Big Boss (who fights in two forms) and Metal Gear 2. Bosses are as follows:
The three grenadiers
The two train ambushers
A Wrongdoing
Big Shell Evil
Harrier (piloted by two Russian crime syndicate members)
Confidential Legacy
Dead Man Whisper
External Gazer
Community content is available under
CC-BY-SA
unless otherwise noted.